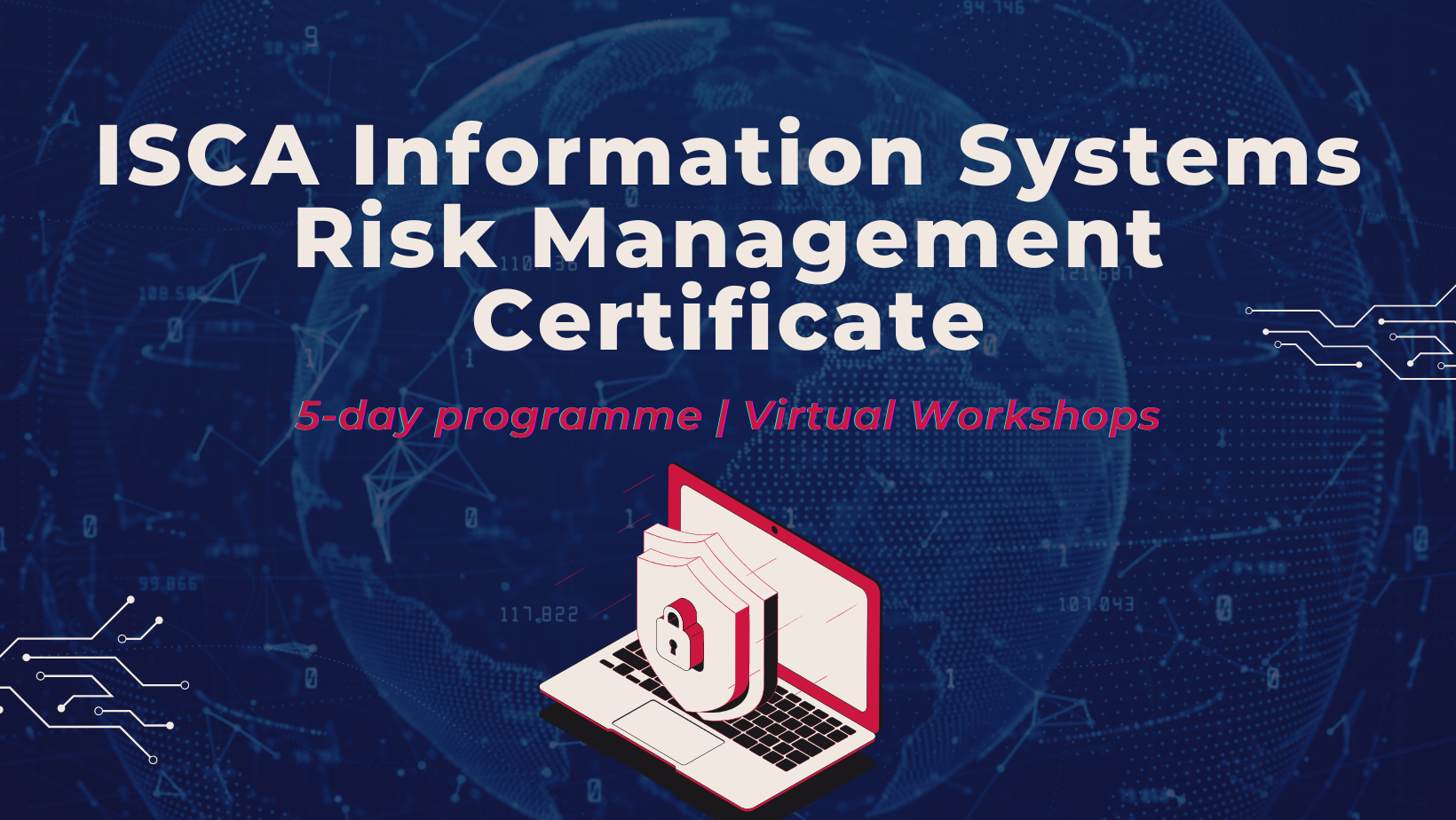 (Note: ISCA reserves the right to amend the date(s) of the Programme)
Click on the respective tabs below to find out more: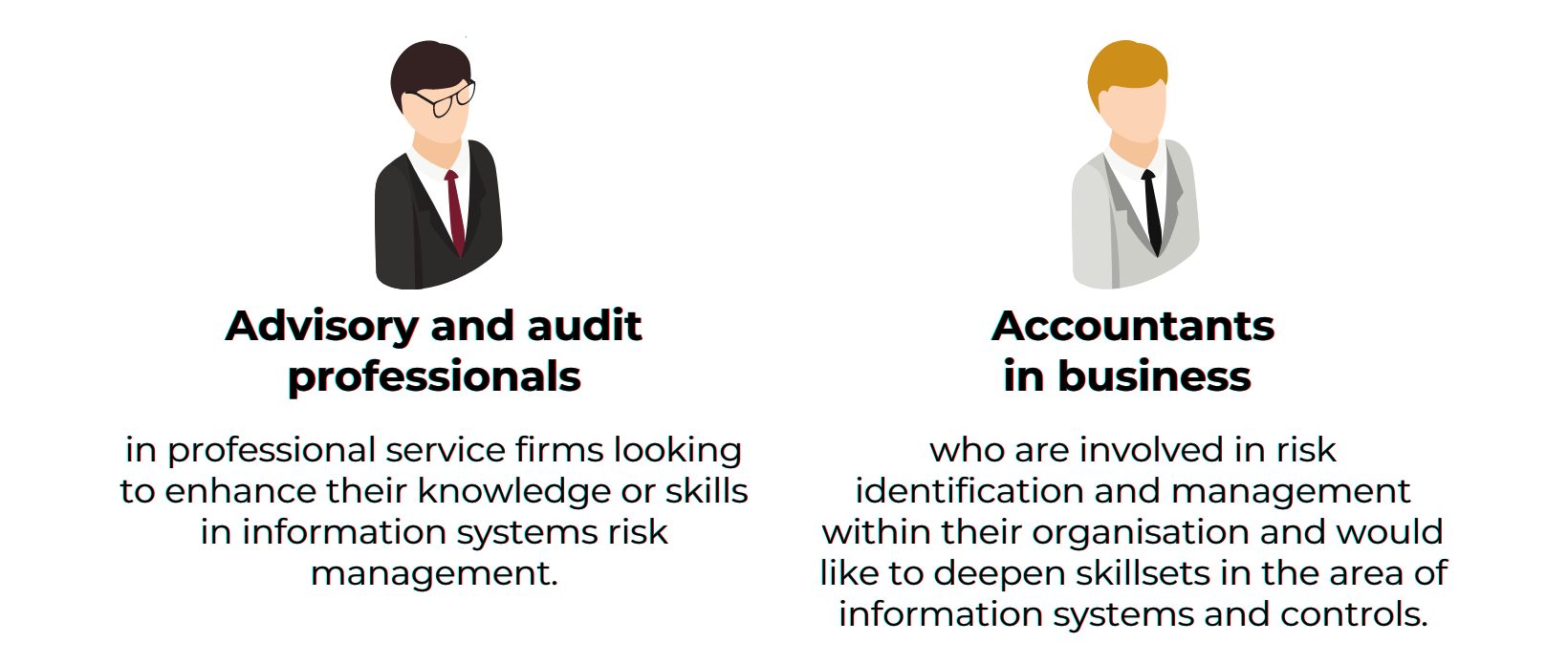 Entry Requirements (Intermediate and Advanced modules):
At least 21 years old; and
Minimum 3 years of working experience; and
Intermediate computer literacy skills in operating a computer and access the Internet
Note:
1. You are required to take both the Intermediate and Advanced modules of the programme to receive the ISCA Information Systems Risk Management (ISRM) Certificate.
2. You are recommended to attend the Fundamental modules to obtain a basic understanding of cybersecurity and risk management. Participants who have attended equivalent courses previously or have sufficient understanding/ knowledge of the topics during the course of their work do not need to attend the Fundamental modules. Please refer to each module information for more details.
After taking the certificate course, you will be able to…
Understand information systems security, risks and controls with the aim of managing risks within the organisation
Understand and apply common IT risk identification, risk assessment and risk mitigation techniques
Design information system risk management plans
Identify Key Risk Indicators and Key Performance Indicators to monitor and control IT Risk within the organization

Progress towards taking the ISACA Certified in Risk and Information Systems Control (CRISC) Certification
The course fees for Fundamental Modules can be found at the link below:
The course fees for Intermediate and Advanced Modules are as follow:
Intermediate Module: Essentials of Information Systems Risk and Controls

Singapore Citizens and PRs
Singapore Citizens aged 40 and above
International Participants

Self-sponsored

$730.801

$478.802

$1,360.80

Company-sponsored

$730.801

$478.802

$1,360.80

SME-sponsored

$478.803

$478.802

$1,360.80
Advanced Module: Information Systems Risk Management
Singapore Citizens and PRs
Singapore Citizens aged 40 and above
International Participants

Self-sponsored

$487.201

$319.202

$907.20

Company-sponsored

$487.201

$319.202

$907.20

SME-sponsored

$319.203

$319.202

$907.20
All fees include 8% GST
1Up to 50% course funding
2Up to 70% course fee funding under SkillsFuture Mid-Career Enhanced Subsidy
3Up to 70% course fee funding for employees of SMEs under Enhanced Training Support for SMEs
Both modules are also eligible for:
Absentee Payroll (AP) Funding
AP Funding is a grant to help employers defray the manpower costs incurred when they send their employees for certifiable skills training. Enterprise-level AP funding will be capped at $100,000 per calendar year and AP hourly rate will be standardised at $4.50 per hour.
Workfare Skills Support (WSS) AP
The WSS Scheme encourages low-wage workers to undertake training that leads to more impactful employment outcomes. Sponsoring employers are eligible for AP at up to 95% of your hourly basic salary.
SkillsFuture Enterprise Credit (SFEC)
The SkillsFuture Enterprise Credit (SFEC) encourages employers to invest in enterprise transformation and capabilities of their employees. Eligible employers will receive a one-off S$10,000 credit to cover up to 90% of out-of-pocket expenses on qualifying costs for supportable initiatives, over and above the support levels of existing schemes.
Please click here for more information.
SkillsFuture Credit (SFC)
SFC aims to encourage individuals to take ownership of their skills development and lifelong learning. Introduced in 2015, all Singaporeans aged 25 and above will receive an opening credit of S$500.
To further encourage Singaporeans to take timely action to reskill and upskill to seize opportunities in the future economy, a one-off SkillsFuture Credit top-up of $500 will be provided to every Singapore Citizen aged 25 years and above as at 31 December 2020. From 1 October 2020, this top-up can be used on all SkillsFuture Credit-eligible courses, and will expire on 31 Dec 2025.
You may wish to use your SFC and the SFC top-up to offset part of the course fee(s) during enrolment. However, please note that the additional SFC (Mid-Career Support) of $500 provided to Singapore Citizen (SC) aged 40 to 60 as at 31 December 2020 is NOT applicable for use on ISCA ISRM course(s).
For more information on the SFC scheme, please visit https://www.skillsfuture.gov.sg/credit
To be eligible for SSG Funding, participants must fulfil at least 75% attendance and pass all assessment components and have not previously received a government funding for the same course.
NTUC Union Training Assistance Programme (UTAP)
UTAP is a training benefit for NTUC members to defray their cost of training. This benefit is to encourage more NTUC members to go for skills upgrading.
NTUC members enjoy 50% *unfunded course fee support for up to $250 each year for courses supported under UTAP. NTUC members aged 40 and above can enjoy higher funding support up to $500 per individual each year, capped at 50% of unfunded course fees, for courses attended between 1 July 2020 to 31 December 2022.
*Unfunded course fee refers to the balance course fee payable after applicable government subsidies. This excludes material fees, registration fees, misc. fees etc.
You may click here to download the UTAP Application Guide. To submit for UTAP claims, please visit http://skillsupgrade.ntuc.org.sg/. Terms and conditions apply.

For queries on UTAP, please email to UTAP@e2i.com.sg or call NTUC Membership Hotline at 6213 8008.
You may click here for more information on each funding option's eligibility criteria and their respective application process. Terms and conditions apply