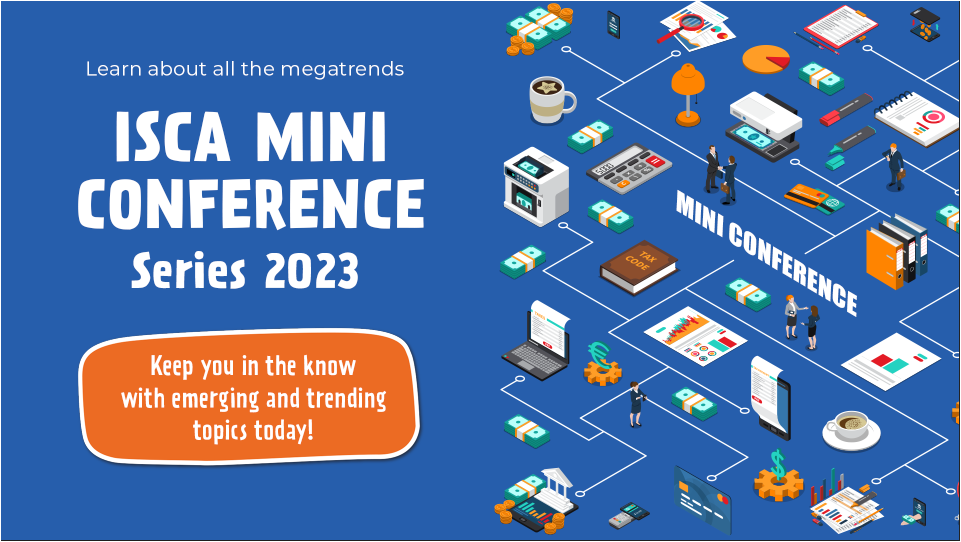 ISCA Mini Conference Series is back!
Championed by various ISCA Committees, the ISCA Mini Conferences promises 2 to 2.5 hours of content centred around business issues, solutions, and megatrends shaping the global market and ecosystem today. Through these interactive live sessions, thought leaders and industry experts will provide their unique perspectives on in trend topics.
If you are unable to attend the live sessions due to your work schedule, there are options for playback.
*All fees quotes are exclusive of prevailing GST rate.
**Except for the Singapore Budget and Tax Update 2023, all other ala-carte sessions will be open for registration one month before the session date (subject to availability).
UTAP Funding is now available! Enjoy 50% funding support for NTUC member!
Find out more here.
The ISCA Mini Conference Series is offered by ISCA from February to November 2023 and sessions will be held as live webinar. A detailed set of instructions will be sent to you before the session.
The dates and contents published on the website are indicative and subject to changes without prior notice. Participants will only be notified of the changes to event dates.
The Institute reserves the right to amend the programme (including duration, date, and content) as deemed necessary without prior notice.
Playback option for the ISCA Mini Conference Series will be available 6 months from the session date or registration date (whichever later), for participants who are unable to attend the live session(s).
As the option for playback is available, any request for deferment, cancellation or refund of fees in full or partial is strictly not allowed.
All Birthday and Credit vouchers must be applied at the time of purchase. There shall be no further amendments to the invoice once registration is confirmed.
Click here to view CPE Terms and Conditions. ISCA reserves the right to amend the terms and conditions at any time without prior notice.
For more details, please contact ISCA CPE at cpe@isca.org.sg or 6749 8060.
Your enrolment would constitute that you have read and accepted the Terms and Conditions.