ISCA Infrastructure & Project Finance Qualification (ISCA IPFQ)
Why ISCA Infrastructure & Project Finance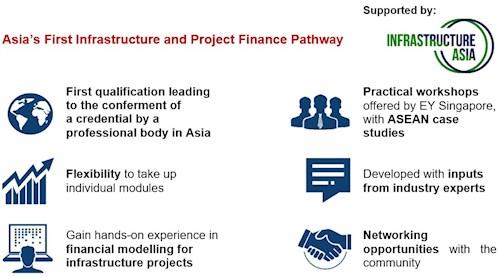 Demand for urban infrastructure and services is expected to grow strongly, with infrastructure investments in developing Asia projected to be US$20 trillion (S$28.5 trillion) from 2016 to 2030¹. The ISCA Infrastructure & Project Finance Qualification (ISCA IPFQ) is developed with inputs from industry experts and leads to the conferment of the ISCA Infrastructure & Project Finance Professional (ISCA IPFP) credential.
¹Report of The Committee on the Future Economy, 2017
Launched in July 2019, the qualification aims to reduce the barriers of entry for individuals entering job roles within the infrastructure and project finance industry through structured training, and hence enhancing productivity for enterprises.
Applications for the ISCA IPFQ are open all year round except in December. Successful applicants will be approved as candidates and advised of the next available workshop and examination session upon admission.
* Those who do not meet academic requirements will have their applications assessed on a case-by-case basis.
Candidates will be equipped with a foundation of understanding of project development and stages in procurement processes. Candidates will understand the factors that are required to be taken into account as part of project development as well as assess the different stages involved in the procurement processes.
Candidates will be equipped with a foundation of skills in risk analysis and mitigation as well as project finance. Candidates will understand risk analysis and its application as part of project development and implementation, as well as characteristics of project finance, the various sources and financing terms.
Candidates will learn the basic structure of a Public-Private Partnership (PPP) contract and the key commercial principles involved in designing PPP contracts. Candidates will understand the basic concept of Value for Money (VFM) and acquire hands on-experience in the financial modelling of PPP projects
Candidature Validity Period
Candidates who have been admitted into the ISCA IPFQ will have a candidature validity period commencing on the date of admission and expiring on the 31 December of the fourth (4th) calendar year. For example, if you are admitted as a candidate on 15 June 2020, your candidature validity period will commence on 15 June 2020 and expire on 31 December 2023.
Candidates who wish to apply for the credential must complete the corresponding qualification within the prescribed candidature validity period.
Professional Recognition with ISCA Digital Badges
ISCA Digital Badges are secure, web-enabled credentials containing verified information about your professional achievements. Candidates who successfully complete each module under the ISCA IPFQ will be issued with the module's digital badge. Upon successful completion of all 3 modules, candidates will be issued with the ISCA IPFQ's digital badge. Find out more about ISCA Digital Badges here.

The 6 days workshops are facilitated by experienced infrastructure advisory professionals from EY Singapore, with end of module assessments. For Module 3: Contracts and Modelling, there will be a financial modelling assignment included and it will account for 45% of the total assessment weightage.
Please click on the link below for the workshop and exam schedule.
| | | | | |
| --- | --- | --- | --- | --- |
| Exam Session | Application Submission Deadline | Exam Registration Period | Workshop Period | Exam Results Release Period |
| May 2022 Exam Session | 25 February 2022 | 17 January 2022 to 11 March 2022 | Between last week of March 2022 till first week of April 2022 | August 2022 |
| November 2022 Exam Session | 26 August 2022 | 12 July 2022 to 09 September 2022 | Between last week of September 2022 till first week of October 2022 | End January 2023 |
ISCA reserves the right to amend the dates without prior notice. Please visit the website regularly for updates.
The workshops are planned to be held virtually and will be delivered via Zoom meeting platform.
The exam mode is closed-book and computer-based in a centralized venue. You are required to bring your OWN PERSONAL fully-charged laptop for the exam
Programme Fees
| | | |
| --- | --- | --- |
| | Name of Module | Amount (inclusive of GST) |
| 1 | Project Lifecycle | S$ 2,376 |
| 2 | Project Risks and Financing | S$ 2,376 |
| 3 | Contracts and Modelling | S$ 2,376 |
| | Total Fees | S$ 7,128 |
Other Fees
Types of Fees
Amount (inclusive of GST)
1
One-off Application Fee

WAIVED

2

Annual Candidate Fee

(payable from second year onwards after admission – i.e. 1 January of the calendar year)

WAIVED

3

Re-sit Examination Fee

(only for candidates who have failed their module examination and would like to re-sit for the examination by registering and paying for the next available examination session, without attending the workshop for that module)
S$ 972 per module
Funding options are available to defray the course fees. Click here to find out more each funding option's eligibility criteria and their respective application process. Terms and conditions apply.
Upon completion of all modules, ISCA IPFQ graduates who have acquired at least three years of recent and relevant work experience in infrastructure and project finance-related fields can apply for ISCA Associate membership, subject to meeting the prevailing membership admission requirements, and be conferred the ISCA Infrastructure & Project Finance Professional (ISCA IPFP) credential.
More information regarding the credential can be found here.