Accountancy Future Leaders Programme
In this age of digitalisation, global interdependence and complexity, professional services firms face diverse opportunities and challenges. The leadership of a public accounting firm is one of the most important drivers to raise the quality of the firm's work and seize opportunities in this competitive and disruptive market.
The Accountancy Future Leaders Programme ("AFL Programme") provides a structured and formalised professional development pathway aimed at developing selected individuals of accounting firms, in particular the Small and Medium Practices (SMPs), in leadership capabilities which is essential for succession planning. It also aims to improve the competitiveness of SMPs, provide tactical and practical assistance to enhance the quality of SMP services and showcase best practices.
For more information about the Programme, please click on the following links:
AFL Programme is primarily targeted at:
professional accountants working in accounting firms, in particular SMPs, specifically high potential leaders identified by the managing partner, or

middle to senior level officers with a minimum of 10 years of professional experience.



Notes:
1) Applicant has to be nominated by his/her employer to participate in the Programme.
2) Applicant is required to submit the following documents together with the application form.
a) Referral Letter from Managing Partner/CEO/Senior Executive
b) Applicant CV
All applications are subject to approval by the Institute of Singapore Chartered Accountants (ISCA) and Singapore Accountancy Commission (SAC). Applicants will be notified of their application results within 2 weeks from the application.
AFL Programme consists of four core components –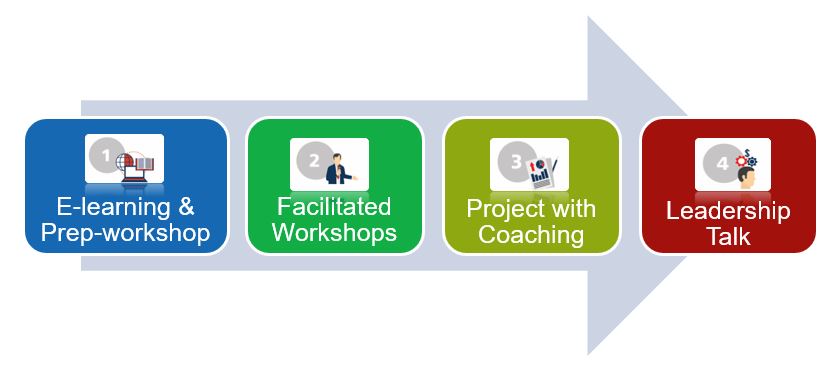 (1) E-learning
Participants are required to complete a pre-course reading which consists of three online modules covering topics –
(i) practice leadership (Leading the Firm)
(ii) business advisory success (Growing the Firm)
(iii) marketing fundamentals (Marketing the Firm)
The duration of each module is about 1.0 - 2.0 hours. Please click here for more information about the e-learning contents.
(2) Facilitated Workshops
A 3.5-day workshop facilitated by experienced industry leaders, covering topics –
(i) change leadership
(ii) business strategy
(iii) people strategy
(iv) technology strategy
Case studies on leadership and SMP practice management will be tailored for discussion. The participants will also get to share and exchange views with peers. Please click here for more information about the programme contents.
(3) Project Work
The practical portion of the Programme requires participants to embark on project work by pre-select one of three topics covering the most pressing challenges faced by SMPs –
(i) business strategy (venture into advisory services)
(ii) people strategy
(iii) technology strategy
With the knowledge acquired from the facilitated training, participants will then perform a deep dive review, identify gaps and areas of improvement, and formulate strategies customised to the SMPs' business needs. Qualified consultants will be assigned to facilitate the completion and delivery of the participants' project work. Participants will have 4 months to complete the project work.
Please click here for more details about the scope and deliverables of each project.
(4) Leadership Talk
The Programme will also bring in industry leaders to conduct leadership talk on innovative business models, and to offer perspectives of what makes for sound practice management leadership.
Programme Structure Overview*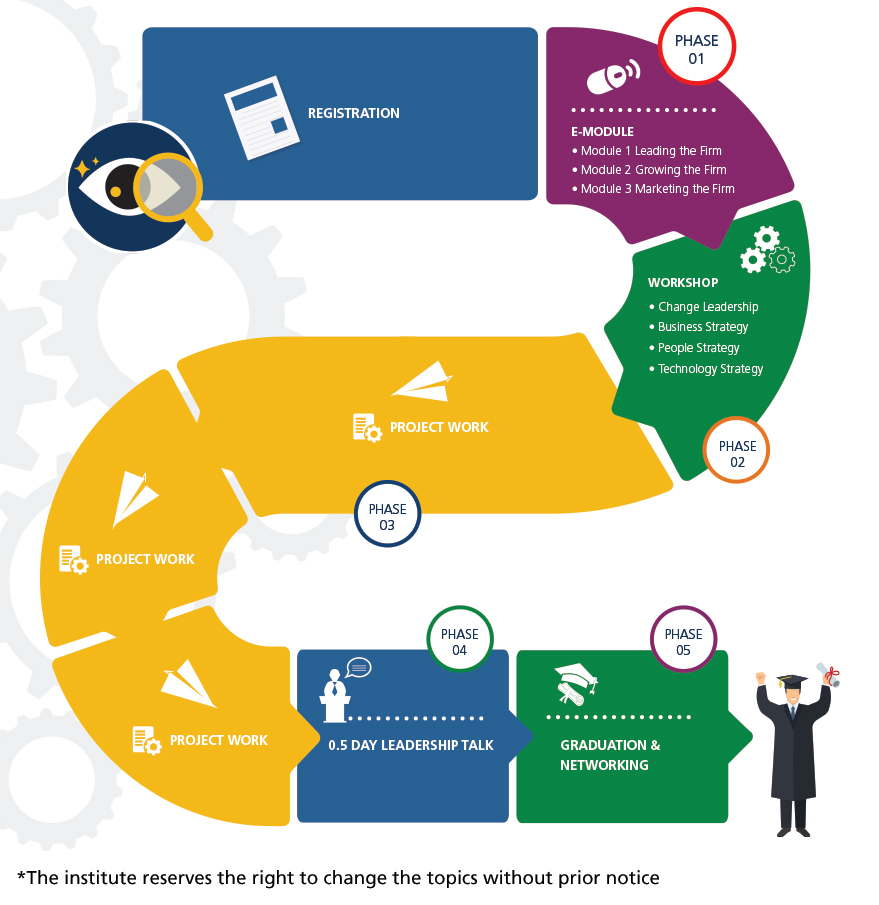 Programme Fee
Item
Fees (GST inclusive)
Programme fee per participant
S$7,500.00

Nett fees payable per participant (after Training Grant**)

- for Singapore Citizens sponsored by their organisations

S$3,995.33**

Group Discounts

- for organisation register 2 or more participants

enjoy 20% discount

off the Programme Fees
All applicants are required to pay full course fee of $7,500 or $6,000 (for group discounts) upon registration. ISCA will reimburse the 50% funding to the eligible participants upon completion of the Programme and fulfilment of all funding criteria.
The fees above are inclusive of GST and may be reviewed periodically. The Institute reserves the right to adjust the fees without prior notice. There is strictly no refund of fees. Fees paid are not to be offset against other fees.
**
Training Grant
Singapore citizen who is nominated by his/her organisation and meet all the eligibility criteria below, get to enjoy funding 50% of the Full Programme Fee before GST.
Eligibility Criteria

Applicant is a Singapore Citizen.

Applicant has been nominated by his/her employer to participate in the Programme.

Applicant is taking the course for the first time.

Applicant must complete all e-learning modules, workshops, talks and project works.

All costs associated with the training is fully sponsored by the company. Payment has to be made via corporate means (e.g. corporate cheque, corporate credit card).

Applicant does not receive other grants from the Economic Development Board, capitation from the Ministry of Education or any other government grants (including support from SkillsFuture Singapore) for the Programme, regardless of the quantum of such other support.
Programme Schedule

Programme
Date/ Month

1.

Pre-workshop E-learning modules

Areas of topics:

Practice Leadership

(Leading the Firm)

Business Advisory Success

(Growing the Firm)

Marketing Fundamentals

(Marketing the Firm)

Access to the e-learning modules will be made available at least one month before the workshop.

2.

3.5-day Facilitated Workshops

Areas of topics:

Change Leadership
Business Strategy
People Strategy
Technology Strategy




Topic 1: 18 August 2021 (1:30pm to 5pm)

Topic 2: 19 & 20 August 2021 (9am to 12:30pm)

Topic 3: 26 August 2021 (9am to 5pm)

Topic 4: 27 August 2021 (9am to 5pm)

3.
Project Work (with coaching)

September to December 2021

4.
Graduation and Networking

*January / February 2022
* Date(s) to be advised.
(Note: ISCA reserves the right to amend the topic(s) and/or date(s) of the Programme.)