News & Media Releases
Here you will find the latest information on ISCA Cares in the media.
Small Acts Big Hearts
FOCUS, ISCA Journal
Nov 2020

In conjunction with the upcoming International Volunteer Day on December 5, we shine the spotlight on two big-hearted members who are paying it forward through ISCA Cares.
Here, two of our members who are actively involved in charity work, and also contributing their time and expertise as mentors in the ISCA Cares Mentorship Programme, share their thoughts about the joys of giving, as well as what keeps them going.
To read the full article, please refer to https://journal.isca.org.sg/2020/11/03/small-acts-big-hearts/pugpig_index.html
Scholarships lighten the burden of students from difficult families
Berita Harian
27 Oct 2020
ISCA Cares Chairman, Mrs Lim Hwee Hua, was quoted in the Berita Harian article:
"In times of crisis, low-income families among the poor are severely affected. This makes it even more important for ISCA Cares to help the youth from the less fortunate families through this difficult time."
The annual ISCA Cares Bursary Awards Ceremony was successfully held last Friday, 16 October 2020, where 28 students from underprivileged families were awarded a total of $54,000. Together with an earlier tranche of bursary awards, ISCA Cares awarded a record of $160,000 to 83 beneficiaries this year, in view of the difficult economic climate arising from the Covid-19 crisis.
ISCA Cares would like to extend a big thank you to all donors and ardent supporters who made this possible!
To read the full article, please refer to https://isca.org.sg/media/2825139/berita_harian_27oct2020.pdf .
The Accountancy Community Sends Timely Financial Aid To Youths In Need Amid Covid-19 Crisis
IN TUNE, ISCA News
Aug 2020
In the August issue of ISCA News - In Tune, three of our ISCA Cares beneficiaries shared their challenges, how Covid-19 had impacted them, yet remaining hopeful despite all of that.
Quoting one of our ISCA Cares beneficiaries, Sarah:
"I found strength and motivation to work hard because of the people who supported me through challenging times. They include my family, teachers, friends and ISCA Cares. I feel I should not take any of this help for granted."

Despite the hardships, the aspiring tax accountant remains optimistic about the future. Sarah hopes that one day, she will in turn be able to help youths who face similar financial struggles.
To provide timely financial assistance to disadvantaged youths like Sarah, ISCA Cares, the charity arm of ISCA, brought forward the disbursement of its ISCA Cares Education Programme bursaries this year, with the aim to help the lower-income who are more severely impacted by the economic fallout due to the pandemic.
"We would like to thank all ISCA Cares donors for their generous support. Their contributions have made it possible for ISCA Cares to reach out to some of those who have been most financially impacted by the pandemic," says Mrs Lim Hwee Hua, ISCA Cares Chairman
To read the full story, please refer to https://journal.isca.org.sg/2020/07/20/the-accountancy-community-sends-timely-financial-aid-to-youths-in-need-amid-covid-19-crisis/pugpig_index.html
No Let Up in Doing Good
Views from the Top, Business Times
20 Apr 2020
ISCA Cares Chairman, Mrs Lim Hwee Hua, was quoted in The Business Times on the question of "Will corporate social responsibility (CSR) take a back seat during a downturn? How might your organisation's corporate giving be affected this year?" This is what she has to share:


This quote was first published in "Views From the Top" in The Business Times on 20 April 2020.
To read full article, refer to https://www.businesstimes.com.sg/views-from-the-top/no-let-up-in-doing-good.
ISCA Cares Charity Golf
A Big Thank You to our Donors and Sponsors for your Support to ISCA Cares Charity Golf!
In view of the latest measures introduced to minimise further spread of Covid-19, the ISCA Charity Golf that was scheduled for Friday, 27 March 2020 will be postponed.
As proponents of accountability and trust, we at ISCA are committed to doing our part to keep our community safe. We sincerely appreciate the generous support we have received for this event and we are heartened to know that our donors and sponsors are equally supportive of our decision to postpone this event. We are monitoring the situation closely and will provide updates should there be any changes.
Launch of ISCA Cares
At the Singapore Accountancy Convention Networking Dinner, ISCA Advisor Teo Ser Luck announced the launch of ISCA Cares, a charity dedicated to serving the community. Mooted in celebration of SG50, ISCA Cares aims to raise S$1 million in its first year of establishment to help disadvantaged youths by subsidising their tuition fees and basic living expenses through donations.
Donors can also become mentors, sharing experiences and serving as role models for these youths to look up to.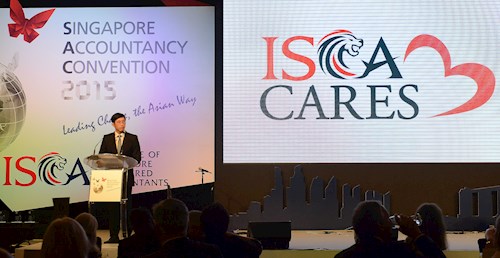 Photo: ISCA Advisor Teo Ser Luck making the opening address at the 2015 Singapore Accountancy Convention Networking Dinner