ISCA Financial Forensic Accounting (FFA) Qualification
Why ISCA Financial Forensics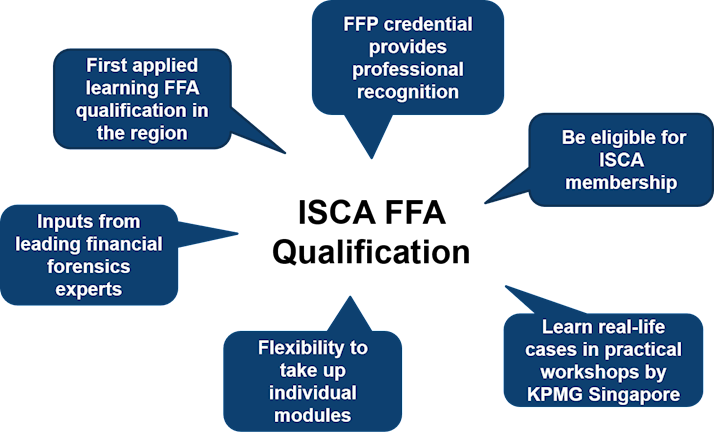 As the first applied learning financial forensic qualification developed by a professional body in the region, the ISCA Financial Forensic Accounting (FFA) Qualification, leading to the conferment of the ISCA Financial Forensic Professional (FFP) credential, is developed by ISCA in collaboration with industry experts to build up capabilities in the financial forensics field.

Entry Requirements:
At least a recognised bachelor's degree* or equivalent in the following disciplines:
Accountancy related; or
Other degrees with one year full-time and recent relevant work experience in financial forensic-related fields such as law enforcement, financial and regulatory compliance and forensic advisory
Applications for the ISCA FFA Qualification are open all year round except in December. Successful applicants will be approved as candidates and advised of the next available workshop and examination session upon admission.
* Those who do not meet academic requirements will have their applications assessed on a case-by-case basis.
Candidates will be equipped with knowledge of the roles and responsibilities of forensic accountants, and gain proficiency in identifying and explaining the different types of white-collar crimes, and in conducting investigations and preparing of reports for different stakeholders.
Candidates will be equipped with digital forensics methodology and essential techniques to recover, authenticate and preserve electronic data as a form of legal evidence.
Candidates gain practical knowledge of the key aspects of the financial industry, the types of financial crimes, including money laundering, terrorism financing and sanctions, the applicable laws and regulations and financial institutions investigation approaches.
Candidates will learn about the mandatory professional requirements, including the implications of non-compliance with the code of professional conduct and ethics, anti-money laundering and countering the financing of terrorism regulations, through case scenarios and reflective activities.
Most candidates can reasonably complete the qualification in 12 months, if they take 1-2 modules per exam session.
ISCA FFA Qualification workshops for Modules 1 to 3 are facilitated by forensic practitioners from KPMG Singapore, and Module 4 is an e-learning module. There will be an end-of-module assessment after each module.
Please click on the following links for the workshop and exam schedule.
Exam Session
Application Submission Deadline
Exam Registration Period
Workshop Period
Exam Results Release Period
May 2021 Exam Session

15 February 2021

4 January 2021 to 19 February 2021

Between first and third weeks
in April 2021

(Maximum capacity per workshop: 40)

By early July 2021
ISCA reserves the right to amend the dates without prior notice. Please visit the website regularly for updates.
Programme Fees
Name of Module
Amount (inclusive of GST)
1
Digital Forensics

S$ 1,605

S$ 1,444.51*

2
Forensic Accounting and Investigation

S$ 1,605

S$ 1,444.51*

3
Financial Crime

S$ 1,605

S$ 1,444.51*

4
Professional requirements

S$ 214

S$ 192.60*

Total Fees

S$ 5,029

S$ 4,526.13*
*Notes:
A 10% discount off the module fees will be offered at the upcoming enrolment period for the April 2021 Workshop and May 2021 Examination Session. The discount is applicable for all four (4) modules.
Please note that discount should not be used in conjunction with any other discounts, promotion, or funding/subsidies. Discount is only applicable on full module fee and not applicable for exam re-sit fee.
Other Fees
| | | |
| --- | --- | --- |
| | Types of Fees | Amount (inclusive of GST) |
| 1 | One-time off Application | S$ 107 |
| 2 | Annual Candidate Fee (payable from second year onwards after admission – i.e. 1 January of the calendar year) | S$ 160.50 |
| 3 | Re-sit Examination Fee per module for modules except for Professional Requirements (No workshop) | S$ 856 |
| 4 | Re-sit Examination Fee for Professional Requirements Module | S$ 107 |
Funding options are available to defray the course fees. Click here to find out more each funding option's eligibility criteria and their respective application process. Terms and conditions apply.

Upon completion of all four modules and acquiring at least three years of relevant work experience in financial forensic related field immediately prior to the application, ISCA FFA Qualification graduates can apply for ISCA membership, subject to meeting the prevailing membership admission requirements, and be conferred the ISCA Financial Forensic Professional (FFP) credential.
More information regarding the credential can be found here.