ISCA Professional Business Accountant (PBA) Programme
With the global business landscape changing at an accelerating pace, accountancy professionals are required to continuously update their technical knowledge and deepen their skill sets at a rapid pace. The ISCA Professional Business Accountant (PBA) programme is designed to equip accountancy professionals with emerging skill sets and knowledge to handle dynamic business situations by focusing on practical business cases.
For more information about the PBA Programme, please click on the following:
Who should take up this programme:
Associate Members in the initial years of their accounting and finance career seeking to:
Achieve broad-based knowledge of diverse key accounting functions
Build up competencies to enhance career progression
Senior Executives and aspiring Managers looking to:
Develop competencies to stay ahead of the corporate curve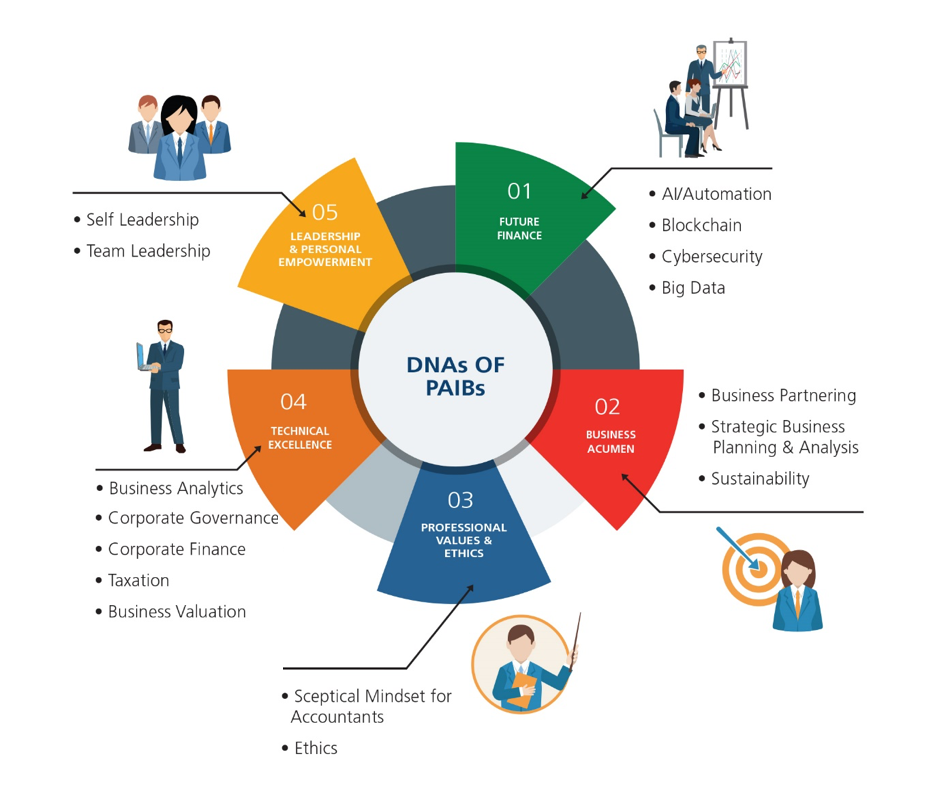 DNAs

Modules

CPE credits (hours)

Future Finance

Application of Artificial Intelligence and Automation (PBA-DGT002ai)
Application of Blockchain (PBA-DGT001ai)

2.5

Leadership and Personal Empowerment

Effective Delegation & Feedback (MP006i)
Effective On-The-Job Coaching (MP007i)
Effective Conflict Management (MP008i)
Leadership Workshop (MP175) -

Participant must complete all 3 leadership e-learning modules 3 days before the date of the workshop

7.5

Professional Values & Ethics

Ethics
Sceptical Mindset for Accountants (MP005i)

3.0

Business Acumen

Finance Business Partnering (MP004i)
Strategic Business Planning & Analysis

Financial Statements Analysis (BF007i)
Enterprise Risk Management (RM002i)

Sustainability Reporting (BF008i)


5.0


Technical Excellence

Exploring Business Analytics as A Game Changer (DGT005i)
Corporate Governance (BF006i)
Corporate Finance

Capital Planning (BF005i)

Mergers and Acquisitions (BF003i)
Working Capital and Treasury Management (BF004i)

Taxation for Accountants (TAX003i)

Overview of Business Valuation on Financial Reporting (BF002i)

12.0

30
Each module would have a 6-month validity period.
Programme Duration:
Participants are given six (6) months to complete the Programme from the date of registration.
Programme Requirements:
The ISCA PBA Programme is administered through an e-learning platform and includes the following:
an objective-based assessment upon completion of each module
overall objective-based assessment upon completion of all the modules in the PBA Programme

Participants are permitted unlimited attempts for each module and the overall assessment during the enrolled period of six months

Participants need to complete each module and achieve at least 75% correct answers to pass every assessment
Completion and Award of Certificate:


Certificate of Completion

A certificate of completion will be awarded to participants who have completed the objective-based assessment of each module.

ISCA Professional Certificate in Business Accounting

An ISCA Professional Certificate in Business Accounting will be awarded to participants who have completed:

i. The objective-based assessment of all the modules; and
ii. The overall objective-based assessment in the ISCA PBA Programme
ISCA Digital Badge
ISCA Digital Badges are secure, web-enabled credentials containing verified information about your professional achievements. Candidates who are awarded the ISCA Professional Certificate in Business Accounting will be issued with the programme digital badge.

ISCA PBA Designation

The ISCA PBA Designation will be conferred to candidate who have met the following requirement:

i. The objective-based assessment of all the modules; and
ii. The overall objective-based assessment in the ISCA PBA Programme; and
iii. Satisfy the prevailing Associate (ISCA) membership requirements and acquire at least three (3) years of post-qualification relevant work experience. Click here for more information.
NTUC Union Training Assistance Programme (UTAP)
UTAP (Union Training Assistance Programme) is an individual skills upgrading account for NTUC members.
NTUC members enjoy 50% *unfunded course fee support for up to $250 each year when you sign up for courses supported under UTAP. NTUC members aged 40 and above can enjoy higher funding support up to $500 per individual each year, capped at 50% of unfunded course fees, for courses attended between 1 July 2020 to 31 December 2025.
*Unfunded course fee refers to the balance course fee payable after applicable government subsidies. This excludes material fees, registration fees, misc. fees etc.

Our UTAP funded courses are approved for UTAP support for intakes conducted between 01 April 2022 – 31 March 2023.
As UTAP is given on calendar year basis, and calculated based on year of training taken, it cannot be accumulated.
Maintained paid-up NTUC membership before course, throughout course duration and at the point of claim and;

Course by training provider must be supported under UTAP and training must commence within the supported period and;

Unfunded course fee must not be fully sponsored by company or other types of funding

Unfunded course fee must be S$20.00 and above, and;

Member must achieve a minimum of 75% attendance for each application and sat for all prescribed examination(s), if any and;

UTAP application must be made within 6 months after course ends.
To submit for UTAP claims, please visit http://skillsupgrade.ntuc.org.sg/. Terms and conditions apply.
For more information on UTAP Funding, please click HERE.
Should you have queries on the funding scheme, you can email to UTAP@e2i.com.sg or call NTUC Membership Hotline at 6213-8008.
Name of Funding
e2i Training Grant
About e2i Training Grant

e2i is a strategic partner of the Workforce Singapore ("WSG") in the provision of employment facilitation assistance to jobseekers, as well as the development and implementation of manpower development programmes. WSG provides funding to e2i to operate as an institution and to administer projects and grants on behalf of WSG to companies and workers.

e2i Training Grant for ISCA Professional Business Accountant (PBA) Programme is available for a limited number of company-sponsored and/or self-sponsored applicants ("the participant").

Eligibility Criteria
To be eligible for the e2i funding, Participant must:

Be either a Singapore Citizen or Permanent Resident of Singapore and;
Be employed in the accounting and finance related role and;
Not receive any other funding from government sources in respect of the actual grant and/or utilise any ISCA voucher;
Complete and submit the Post Training self-declaration form with employer's endorsement (independent from candidate, eg. HR representative or Reporting Officer) within 2 weeks after completion of the programme.
Complete and pass all examinations / assessments 6 months (validity period) from date of registration or 23 September 2023, whichever earlier and;
Achieve 100% attendance, and pass all examinations /assessments


Important Note:

ISCA reserves the right to update the terms and conditions of the funding eligibility criteria at any time.
Please note the e2i Training Grant is capped at a limited number of eligible participants. ISCA reserve the right to decline applications from eligible participant after the limited numbers are taken up.
In all cases where the participant does not comply to the eligibility criteria and/or failure to submit the requirement documentation (Post Training self-declaration form), the participant shall be disqualified from receiving the e2i Training Grant and shall repay to ISCA all amounts received under the Grant plus interest on the sum, such interest rate to be determined by ISCA. Such amount shall be repaid within 30 days of the date of a written demand made on the Participant to do so.

Self-Declaration Form
Please complete this form and obtain the employer's endorsement 2 weeks after the completion of ISCA PBA Programme.
Programme Fee after e2i Training Grant
Full Programme Fee:

$1,308.41 (before GST)
S$1,400 (after GST)

Programme Fee after e2i Training Grant:

$654.21 (before GST)
S$700 (after GST)

Please see instruction guide for Programme Enrolment. Click here to enrol.
FAQ on e2i Training Grant for ISCA PBA Programme
Click here to find out more.
Apply now
Click here to apply now.
Programme Fees (Inclusive of GST):
Applicants who have successfully completed the programme and meet the criteria can apply for the ISCA PBA designation.
The CPE hours obtained from completing the ISCA PBA programme can be counted towards meeting the CPE requirements in the first and second year as ISCA PBA.